Product Tour & Screenshots
Take a look at how to use JoyBird to host your next website.
Let's explore:
How to create new pages
Reviewing Improvement Opportunities which JoyBird recommends for you
Selecting from various themes for your site
Configuring Site Settings (like bringing your own domain)
Creating New Pages
Simple to Get Started
Creating and Editing Pages is at the heart of using JoyBird.
At a minimum, you can create pages with just a page title and some text .
If you like, you can also add media files (images, videos, PDFs) to your page. And if you need more flexibility, each page can be assigned to different templates so that (for example) your company's team page and services showcase are laid out differently.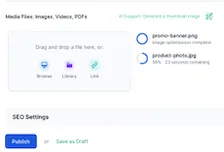 Edit in Rich Text, Markdown, and HTML
JoyBird supports editing your page content in 3 modes:
Rich Text
Markdown
HTML
Rich Text is great for users who want to simply write, and don't need to customize their content too much. Simple buttons for you to bold, italicize, underline text and to change alignment in a familiar format same as Google Docs or Microsoft Word.
The Markdown editor is for users who want to write quickly. Markdown is like a shorthand for writing text quickly, while allowing some basic formatting control. For example, typing **Your title** (with two asterisks) will allow you to make that text bold.
Finally, the HTML editor is for experts who want total control. By diving into the page HTML, you will be able to make almost any modification you like to the display and formatting of the page.
SEO defaults to improve your search engine ranking
You can also edit SEO settings for each page, but you don't need to.
By default, JoyBird will help your site rank well on search engines through sensible defaults, such as:
search-engine friendly page URLs
meta tags and descriptions included
image titles and alt tags are automatically generated
formatting for sharing your content with Facebook and Twitter/X
You can also modify these defaults as necessary.
AI Support to help you write
Never fear writer's block again with JoyBird.
We've built in AI to help you where you might need a little nudge:
Topic Generator gives you ideas what to write about, based on the rest of your website and commonly-searched keywords
Outline Generator structures your headings once you hone in on your page title
automatic spellcheck and grammar correction as you write
Website Improvement Engine
A key difference between JoyBird and other Content Management System is how JoyBird automatically helping you improve your website over time.
On your Pages tab you'll find an Opportunities section, which is periodically updated with intelligent recommendations for you to review.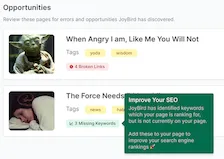 Broken Link Checker
The first tool is the Broken Link Checker.
We know that pages can get out of date, and links that you created last month or last year may no longer be valid.
So JoyBird regularly checks every page in your website, and alerts you if there are any broken links to update.
Keyword Improvement Tool
The other useful feature is the Keyword Improvement Tool.
Once your website has been live for some time, you'll often find your website ranking well in search engines for keywords and queries which you may not have thought of.
This is a clear indicator that your website is being found by users searching for these terms. And one of the easiest ways to improve your search engine ranking is by including these keywords in your existing page.
This is one way to improve your topical relevance.
JoyBird regularly checks your website and recommends these improvements when found.
Note: This feature is only available if you connect your Google Search Console account with JoyBird.
Layout & Appearance
Naturally, you'll want your website to stand out in terms of style and design.
With JoyBird, you can style your website using a collection of pre-made themes without needing to be a designer.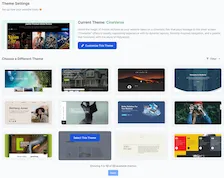 Customizing Themes
Regardless of which theme you choose, you will also be able to modify or customize the theme to suit your personal taste.
The simplest way to do so is by changing the theme's:
Default fonts
Default color scheme
Settings such as spacing, rounded corners, and so on.
For advanced users, you are also able to insert custom CSS for unlimited control of your site's appearance.
Layout Blocks
An advanced way to customize your site's style is by changing the layout of key pages.
This is done with Blocks - you can think of these as the Lego Blocks from which you build your site.
JoyBird's Layout Editor lets you control how these Blocks work on your site, such as:
which Blocks line up with other Blocks
controlling the relative size of each Block
snapping Blocks to the left or right of other content
Site Settings
Finally, JoyBird has a small group of site settings which let you control your website's functionality for your readers.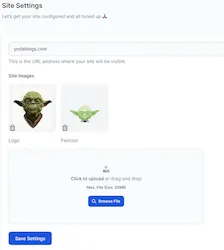 Choose your domain
The most important of these is your domain setting, which is simply the URL address where your site is visible to the public.
You can choose from:
Using your own domain name (eg yodateachings.com or blog.yodateachings.com) with your JoyBird site
Choosing your own space on the JoyBird site with a subdomain (eg yodateachings.joybird.ai), depending on availability
The simplest option is to let us generate a default space name for you (eg seven-purple-monkeys.joybird.ai)
You can easily change your site's address at any time.